Jennifer from To Harp and To Hold began learning classical flute when she was nine years old. Shortly after, she joined a local church choir where she had the opportunity to play flute at mass. When she turned 14 years old her career started to naturally flourish as she began playing for weddings.
At first, when I was about 16 or 17, I used to go to local hotels and ask to play in the foyer to get more experience at playing in public. Then, when I was in first year of my Music degree, I had business cards printed, set up my social media accounts and (eventually) made a website!
Hi Jennifer, thank you so much for chatting with us! So, where do you mainly cover in Ireland?
I'm based in Cork city and would travel to most places within 2 hours, but most of my weddings would be here in Cork. I don't mind a long drive, once I have Google Maps and a good podcast for the trip!
What's a typical wedding day like for you?
Get up, throw on a tracksuit, tune the harp, do all the heavy lifting (i.e., load my concert harp and all my equipment into the car)… Go back inside, have a cup of tea and then put on my dressy clothes. I leave the house at a time that allows me to be at LEAST one hour early and also allows me a spare hour for the journey! I then set up at the venue – 3 trips in and out to the car – and tune the harp again, all 46 strings! I relax for the 30-60 mins I have before the ceremony begins. I then play for the ceremony and try not to get distracted by the bride and guests' style. I then finish up and wait for the crowds to disperse so I can get my concert harp out the door and into the car. I throw on a comfy hoodie and a good Spotify playlist for the journey home. After I unload the car, I flick on the kettle! Did you ever think a wedding ceremony would take so many hours?!
Have you ever collaborated with any other musicians for a wedding? 
I have indeed! I know so many dedicated, talented vocalists and musicians from my time at Cork School of Music and it's always nice to get to play with such accomplished musicians.
How do you decide what to play?
I send the bride and groom a repertoire list from my website and a PDF showing the format of the music needed for the ceremony. I also explain that I can learn any other pieces they would like that aren't on my list. Sometimes, the couple are very easy-going and ask me to choose the music entirely myself. I always send a suggested programme for them to review, in case they hate my taste in music! Music is so personal so I feel like it could easily happen!
What are the most popular/favourite songs you play? 
Definitely Pachelbel's Canon, Ed Sheeran's "Perfect", and "A Thousand Years" by Christina Perri.
How would you advise a couple on what songs to choose? 
I think every couple should make an "Our Wedding" playlist on Spotify (or whatever app you use) and add songs they really like over a few weeks or months, rather than sitting down and trying to make a full list on the spot. You could just send this list to your wedding musician then and they could advise as to where some of those pieces might fit in during the ceremony. Even if you hear a vocal version you love, most songs can be arranged as an instrumental, so that doesn't matter at all for harpists and most instrumentalists.
Is there a wedding you have worked on that really sticks out in your mind?
Yes, I was at one wedding in West Cork and the couple had their dogs at it! Definitely stands out in my mind, all weddings should have at least one canine guest!
If you could give a couple one piece of advice for their wedding, what would it be?
Hmmm… Ban anyone that shows up late to the church from attending the reception. You KNEW the ceremony time, it was on your invitation that's been on your mantlepiece for the past 6 months!!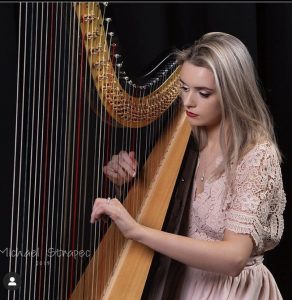 Where can people find you?
Website: www.toharpandtohold.com
Email: [email protected].
Instagram: @toharpandtohold