Our wedding planner & stylist gets hitched!!
Q & A with our very own Marie
Where did it all start? How and where did you meet your man?
Oh I'll have to think…it started a long time ago! We met in 2005 in our first year of professional cookery in CIT, while I myself went on to hospitality management a few months later, we still stayed in touch and subsequently romance developed. And here we are 18 years later and just married 😂 You may have realised we don't rush in to anything very fast!
Was the proposal a surprise?
I would love to say it was…but after nearly 17 years, nothing is a surprise. We had discussed it numerous times and we knew we were doing it for Xmas 2019. While you would think it would not be a surprise to our families after being together for so long…. it actually was…..honestly they had given up on the idea of a wedding at that stage. They were planning a wedding after being together for 5 years. So you can imagine they had forgotten about it at this stage, but everyone was delighted!
So as many know, you work with us here at 'To Have and To Hold'… The biggest question on everyone's mind is…..…Is planning your own wedding the same or different to you planning someone else's wedding?
I guess I would have to say it is very similar to planning another couple's weddings, the process is exactly the same and I imagine I did everything any other bride would do when planning her wedding. I often found myself working away on my wedding but thinking it was someone else's wedding…well I suppose I was planning Bob's wedding and just forgetting I was part of it too. It was very enjoyable and as you know I had lots of wonderful people around to help me.
You work in so many different venues each week for other people's weddings, how on earth did you choose your wedding venue?
Well our venue was actually picked ever before I started working in the wedding industry. I go to so many venues across Cork and Munster each week with work now and there are so many beautiful locations that we could have chosen. But many years ago when we first started to go out, we took a trip to Ballycotton and fell in love with the area. We stayed in the Bayview Hotel there and it was so beautiful……the views of the ocean were amazing and the food was delicious. Ironically, the head chef there was our Butchery lecturer in College the first year we met. After that we spent many breaks away there and many a time I would say….''If I was ever to get married, I would get married here''. So when we decided we would get married, we hummed and awwed over a few different places with the Bayview still staying high on the list! But as it happened….the day we went into town to buy the engagement ring we were sitting outside Le Chateau bar on Patrick's Street enjoying a celebratory drink in the winter sun when Kieran Scully, the head chef of the Bayview Hotel, walked towards us…….in that moment we knew then it had to be The Bayview Hotel!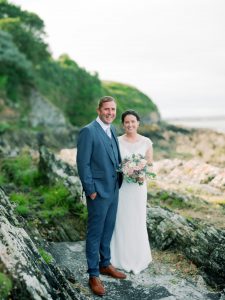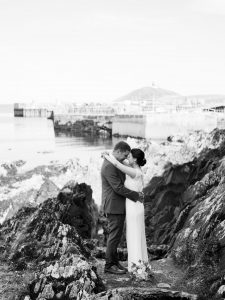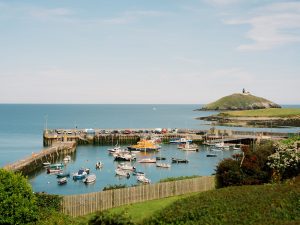 You work with so many wonderful suppliers, how did you choose each one?
I guess everything just fell into place really! While I know many suppliers, I still did some research in relation to the style and vibe I was going for……when you meet someone you either feel it or you don't and that sometimes works out for the best. Many suppliers get booked up 2 years in advance so I may not have had all the suppliers to choose from but I was delighted to have all the suppliers that I had. They all do their bit to bring you the best day possible and they certainly did that for me! I can't thank them all enough! We certainly do have a fabulous broad range of wedding suppliers in Cork!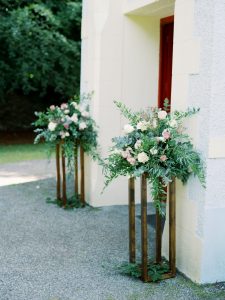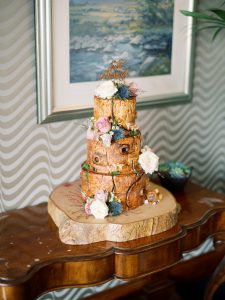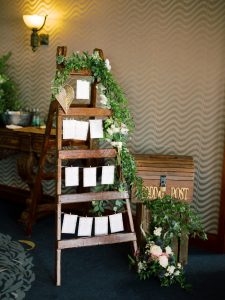 Did you enjoy planning your own wedding?
Yes absolutely, as I said sometimes it felt like I was planning someone else's wedding. The process was very similar to what I do in work so I was so lucky to have that experience and the people around me to help.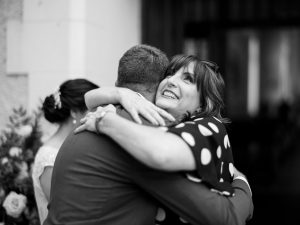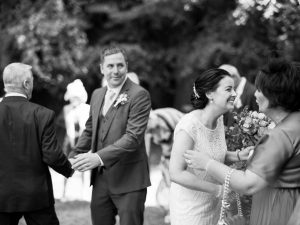 What tips would you give?
-Enjoy every minute of it! So many people will tell you this…..but honestly….. the day will go so fast and its not until the night is nearly over you stand back and think, OMG, I can't believe the day is nearly over! I actually didn't think I would react like that as I knew how fast the day would go but there is so much going on the time just flew by!
-Take the day as it comes – if something goes amiss or something doesn't exactly happen the way you planned it, don't worry, life is not perfect…we were born to be real and not perfect.
-Do not let the planning overwhelm you. If you feel yourself getting stressed or overwhelmed with trying to pull the logistical elements together then find someone to help you…..and I'm not just saying that because of my job….but honestly the pre-planning part is such a big part of the entire experience you will not want to ruin it by becoming stressed out
So its all over…..would you change anything?
No, I don't think of the things I could change, there is no going back! I now have all the wonderful memories to think of from the day.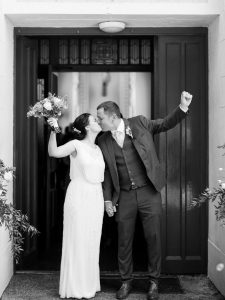 Marie is here with us at TO HAVE AND TO HOLD to help plan and style your wedding day!
Get in touch today!
www.tohaveandtohold.ie
[email protected]
021 4965157
Marie's Wedding Suppliers
Venue: Bayview Hotel, Ballycotton www.thebayviewhotel.com
Wedding Dress & Bridesmaids Dresses: Diamond Bridal www.diamondbridal.ie
Suits: Best Menswear  www.bestmenswear.ie & Morley's www.morleys.ie
Hair & Make up: Hair Passion www.hairpassion.ie
Photographer: Into the Light www.macias-lordan.com
Videographer: Sirius HD Productions www.siriushd.ie
Flowers: To Have and To Hold Flowers www.tohaveandtoholdflowers.ie
Decor: To Have and To Hold www.tohaveandtohold.ie
Cake: Baker Boy Cakes www.bakerboycakes.ie
Stationery: The Wedding Scribblers www.weddingscribblers.ie
Church Music: Caroline Fraher www.carolinefraher.com
Hotel Music: Party Bands, Kesh www.partybands.ie
Honeymoon: Travel Counsellors www.travelcounsellors.ie