Aisling trained as a hairdresser from the age of 15 years old. Her past experience – all in high end salons – have helped her get to where she is today. Aisling left the salon environment after her daughter Freya was born in 2013. Her passion was always – and still is – Bridal /Editorial Hair Styling. Aisling's first & foremost job is being a Mum to her daughter Freya who she says already has a great knowledge of weddings from being around her mom. She's known as her mini Polkadotdreamer!
I always wanted to be a hairdresser from a very young age as it runs in my Dad's side of the family and my Grandfather Ted O Sullivan had a very popular barber shop in Ballyphahane that is still open to this day ( pre Covid) that is ran by my Aunts now and the memories of going there as a kid started my hair obsession. I absolutely adore my business, even though the past 13 months have been super hard with Covid playing havoc with weddings Im still here longing to get back to the excitement of being a bridal hair specialist.
HI AISLING, LETS BEGIN! WHERE ARE YOU BASED AND WHERE DO YOU COVER?
I'm a Cork girl, so I cover all the Cork area and all of Munster too. Travel is never an issue. I do so many Kerry weddings and that drive to Kerry on a super early morning is probably my favourite drive ever, I just adore it, I secretly think Kerry is my second home.
HOW CAN BRIDES ACHIEVE HEALTHY HAIR FOR THEIR WEDDING DAY?
Healthy hair is essential no matter what stage of life you. But if you are a bride-to-be I cannot recommend enough finding a hairdresser that you totally trust. The pre-hair prep is so important and this starts at 12/18 months out from your wedding date. Swapping from salon to salon can be difficult if you are trying to get your hair healthy for your wedding. Your stylist in your regular salon will understand your hair texture and will have all your colours on file. They will know what needs trimming and when to do so etc. Brides put so much effort into a skin routine and I think the same should be done for hair.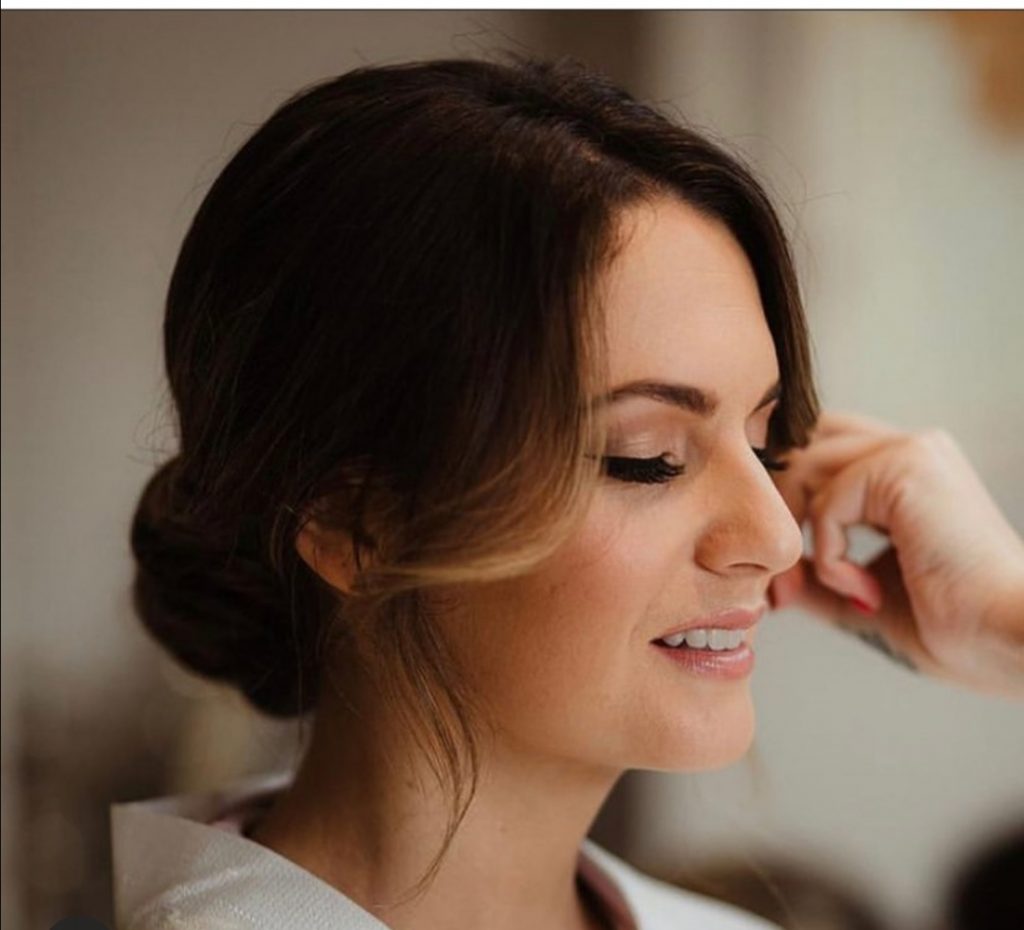 DO YOU WORK WITH EXTENSIONS AND DO YOU RECOMMEND THEM FOR A FULLER LOOK?
Absolutely, extensions can be vital for bridal looks but here are a few tips to remember…
Extensions come in so many forms from bonded to clip-in extensions. Please make sure that whatever type of extension you use is REAL HAIR.. NOT SYNTHETIC! You cannot heat style synthetic extensions – it will melt.
If you are getting bonded extensions (these are the ones that last a few months) factor in the cost of these. Some are expensive but from a professional point of view the styling of these extensions are so easily styled and the quality is fantastic. But if you are paying a bit for these please follow the procedure in the after care of extensions. This is so important as you do need to use specific shampoo, certain brushes and drying the bonds after they are washed is a good tip too. Even just gently blast dry the roots so the bond doesn't stay wet and get weak.
If you pay the money do look after them. If you are trying to add bulk to an up-style, another option is hair padding, rather than extensions. Hair padding is amazing in my eyes and is so versatile for many reasons.
If using clip in extensions consult with the bridal stylist and they will advice you where to get these and how many packs are needed also.
DO YOU RECOMMEND A TRIAL?
Yes, if it's possible. Some brides are only coming home from overseas a week before the wedding so sometimes it may not be possible, but both the Bride and I would have been in touch via email, Skype, Zoom to talk all things hair.
It gives you as the bride and us as a bridal stylist the understanding of each other and the vision of the hair. Also the day of the trial, so many conversations are had and sometimes you learn so much about a bride and her family. Occasionally without this sounding sad their may be a loved one not there on the morning of the wedding and I get told this at a trial so I know walking into the brides house on a morning how emotions may be. Your bridal hair and make up team are your first point of contact on a wedding morning and we build up great bonds with our brides and their mums the trials. So if there is anything you are worried over, your trial is the best time to say this! I've seen it all, I promise you nothing shocks me anymore.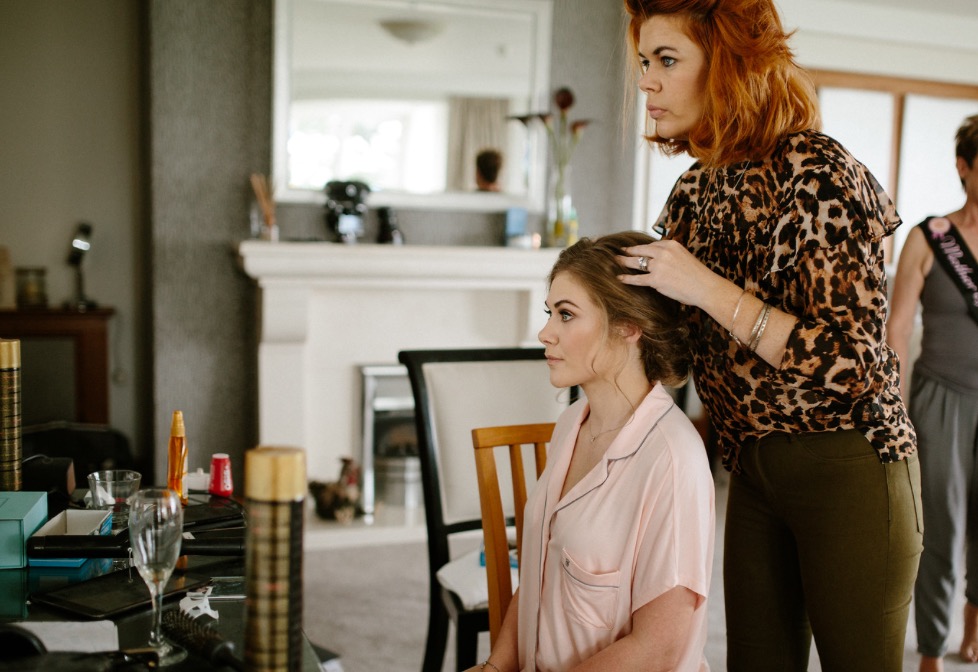 FOR THE BRIDES WHO ARE GETTING MARRIED UNDER RESTRICTIONS – HOW DOES THIS CHANGE FOR HAIR ON THE MORNING OF THE WEDDING? WHAT FO THEY NEED TO KNOW?
Currently this comes down to restrictions and the level we are at. No bride wants/or should have to do their own hair. In the past year when stylist's were deemed essential for bridal parties, the same morning was had except all suppliers were taking the required safety measurements from covid forms having to be filled out, sanitisation of every tool we used, separate bags of brushes etc etc…
I promise you, you will still have the best morning full of laughter, happy tears, butterflies in the belly and the odd panic moment. It is still your wedding morning no matter what we have to do!
WHAT BRIDAL ACCESSORIES DO YOU RECOMMEND/LOVE USING?
This is very much a personal thing. I adore flowers in hair, from flower crowns to floral combs. But equally I adore when I see something a little different if it's a sparkly hair vine or a bridal comb. I love something a little different but cool looking still.
I always recommend Azure in Cork City or Wedding Belles in Castlemartyr for bridal headpieces. Or for the Mums of brides/grooms – Elizabeth Christina Designs in Kinsale are amazing too.
HAIR UP, HAIR DOWN OR HALF UP HALF DOWN, HOW TO DECIDE?
100% go with what you are comfortable with. Just because you are the Bride, it does not mean you have to have an up-do. This is where a trial is essential if you are unsure.
Keep in mind what may suit your neckline of your dress. I think sometimes people are scared of having their hair up and that goes back to when up-do's were super severe and hair sprayed so hard. Upstyling or Downstyling have evolved loads so dont be afraid. Just be comfortable!

HOW MANY PEOPLE CAN YOU DO HAIR FOR ON A WEDDING MORNING BEFORE NEEDING HELP FROM AN ASSISTANT?
If it's a bridal party of 4 or 9 it will just be me doing all of the hair. I'm a huge time keeper and I hate being late – I never am. Time keeping on a wedding morning is so important, I know the ins and the outs of where time is needed and where we can rein it back if needed. I am a one woman show on a wedding morning doing all of the hair so don't worry if you do have a larger bridal party.
ON AVERAGE HOW LONG DOES BRIDAL HAIR TAKE ON A WEDDING DAY?
In general, it's a process on the morning. You have the prep of the hair to do first so that depends on the required style. It then may set in rollers for 20/30 min. I'm then able to work on the mum or bridesmaid and then back to the bride to take out rollers & style her hair. When that is done, I style the rest of the bridal party but my eyes are never off the bride fully as I'm watching how it is settling in when she is walking around.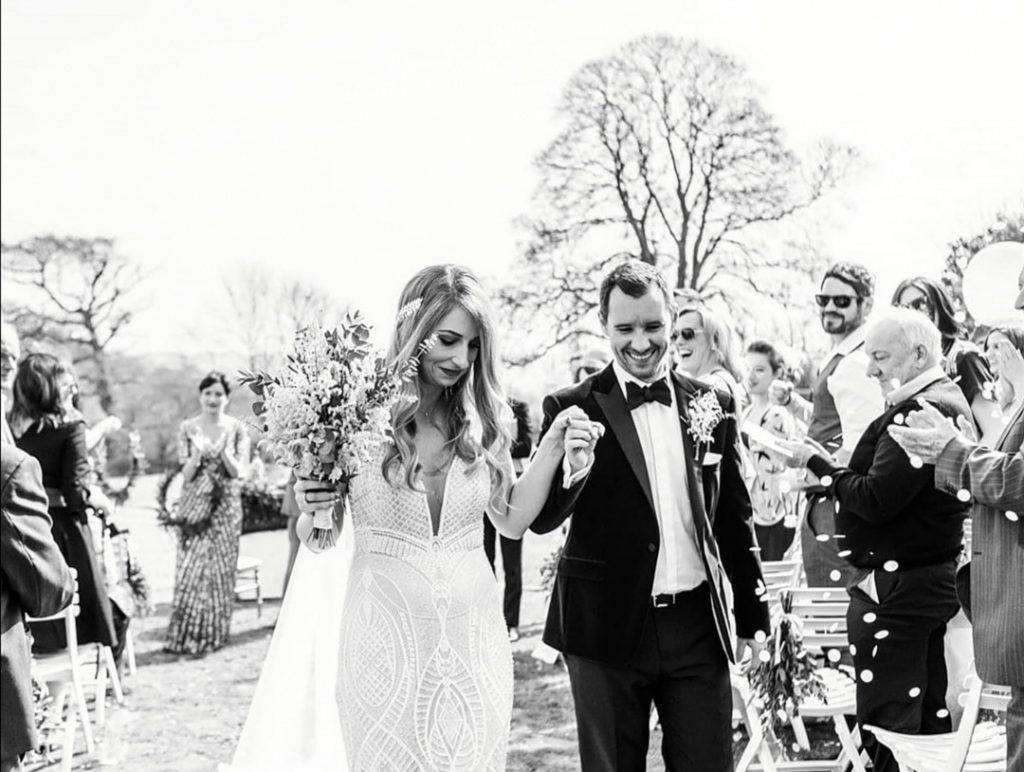 WHAT BRIDAL TRENDS ARE YOU LOVING?
I am a huge fan of understated styling of the hair which takes longer than you may think, but the simplicity of simple hair is so pretty and timeless. But again it comes down to your dress and what suits it.
ANYTHING ELSE YOU WOULD LIKE TO ADD?
The past year has shown us so much change in the wedding industry. As a supplier I can't say this enough.
Give yourself the time to book your suppliers. I'm talking from a hairstylists view, dates are so sought after now that they get booked up super fast. If you enquire about a date give yourself the time to make the call or send the email to your supplier. Unfortunately Instagram, texts etc often go unseen as they go into different folders on business pages and we miss them. It's such an important booking it deserves the time to be done correctly even with a glass of something bubbly in  your hand. Get the deposit secured and you can tick the box off the wedding list. There could be 4 brides looking for the same supplier on your date so secure, secure, secure ASAP.
If you are looking to book Aisling for your big day, you can contact her on: