Tell us a little about you and your journey to where you are today as a MUA?
I had dreamed of being a makeup artist for years but never really knew how to go about it. I was managing hair salons for almost a decade so had gained a lot of experience but I wasn't a hairdresser, I was front of house. After I turned 30  I started to gain a bit more confidence in myself. Friends and colleagues were asking me to do their makeup for night's out so when I was 33 I finally bit the bullet and thought why not start applying for jobs in cosmetic retail. I had nothing to lose. The rest is history. I started managing the Benefit counter in Debenhams on Patrick st and then moved to Inglot in Mahon Point where I managed that store for a year. That was where it all started to take off for me. Inglot was huge in Ireland at the time and it gave the artists employed by the brand a platform to show what we could do. I learned so much from the other artists as well as hands-on working on so many different faces every weekend. I loved my time there but as I was the manager my role was more admin than makeup and all I wanted to do was makeup. When I left I started getting asked for 1-1 lessons during the week aswell as my makeups at weekends. Before I knew it I was completely booked for months in advance for lessons and makeups and years in advance for bridal parties. A year later I opened a salon on Tuckey St and started my Academy where I now could offer a professional course for those wanting to work in the industry. I loved the salon and the girls but I felt I was right back in my management role like I had been for so many years before. I never took time off and even when I did my mind was always active. After two years I decided to sell. It was the amazing Julie Dunne of Brows by Julie who took it over. She had been renting a space off me to do brows so it was a perfect fit. I stayed on renting from her until Covid hit a year later. I was still doing my lessons, makeups and courses but now I was taking time off.
Little did I know I would have more time off than I ever imagined when Covid hit. After an initial period of freaking out I decided to create an series of online courses to suit all skill levels. I spend 5 months of 2020 creating it all. They launched in November and now I have almost 300 learners of all skill levels on my private course page where we meet up every Thursday night online to chat and lift each other up. It is such a special community of women and I'm so grateful I had the time to create the courses. All are available on my website and are lifetime access so the community is our support group. Its so lovely. To see women supporting eachother and feeling empowered is the best feeling in the world. I always loved being able to give women extra confidence through makeup but now being able to show them how to do it for themselves is the gift that keeps on giving. I am looking forward to getting back to painting faces in person again when the world opens up.
What are your top requested make up looks for brides to be?
Variantions of the classic smokey eye tends to been the theme for bridal year in year out. It's a classic for a reason. The trend a few years back was quite glam though and a lot of my brides went for a lot of drama but I find over the last few years everything has gotten a lot softer. I love this. I love a skin focus with the eyes shining. You want to look like the best version of yourself and not to be hidden under huge lashes and black eyeshadow. That's not to say that you can't be glam – of course you can!
90% of my brides are super glam but it's done in a way that you look at the person. – not the makeup. That's the key to makeup in my opinion.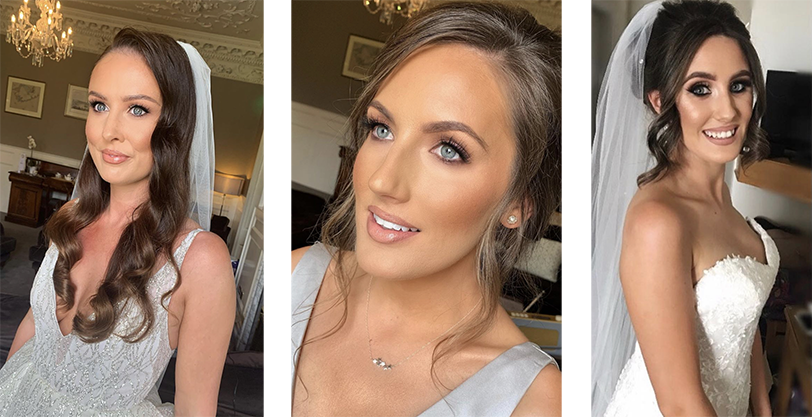 What advice would you give to brides who are looking for their Make up artist?
Most artists will have a portfolio of their work on their website or social media so you will be able to tell from their style if that's something that you are drawn to. So many of my brides come from recommendations so ask your friends and family if they have recommendations. Your wedding day is one of the best days of your life – you want to have someone on your team that not only can deliver the makeup you want but always be someone you want to have there with you in the room with all your favourite people. Your artist and hair stylist will be with you from the crack of dawn to when you leave for the church so you want to make sure that you get on with them and that you trust them. Trials are great and so important to figure out what you want on the day but they are also a way to figure out of you are a fit together. You must feel 100% comfortable with your artist so that you can feel free to ask for whatever it is you want, and change your mind if need be. You need to feel like you are with someone who really listens and who gets what your vision is. Their professionalism, warmth and positive attitude is just as important as their technical ability, especially on your wedding day.
What are your go to products for brides?
54 Body sparkles by Inglot is one of my most used pigments for brides as it is so neutral.
Jordanaticia x Lolav Base and Sparkle in Slainte only came out last year and is quickly becoming one of my favourites again for how neutral it is.

Flawless filter 03 by Charlotte Tilbury – beautiful on the body or as an illuminating primer under your foundation

Nars Sheer Glow foundation  – suits so many skin types. Lightweight but with guidable coverage

Inglot 77 or 90 gel liners – I love both the Black and dark brown gel liners for brides. Waterproof and so pigmented.

MAC Mattifying gel – this clear gel is great to pop all over the eyelid and under the eye before you start the makeup. Leave to set for 3 minutes before applying any other products. This creates a matte seal around the eye which is great is you have an emotional bridal party.

Charlotte Tilbury, MAC and Luna by Lisa are my favourite formulas of lipsticks.
I love NARS Orgasm lipgloss for a pinky peach hue.
The make up trial is really important – what advice or research should brides do before coming to you for their trial? Should they bring images or even their own make up products?
Screenshot everything and anything you see that you are drawn to. You can't have too much research done. Eventually you will see common themes running through all the images you like. This will help your artist to get a feel for what you like. If you have products that you like to use or if you have sensitivity to certain ingredients then I would definitely bring some of your own products to use. I have some clients who bring their own mascara, foundation or eyeliners so if there's anything you couldn't live without bring it along to your trial just in case you artist doesn't have it in their kit. I would also bring a picture of the dress and another of the type of hair style your are thinking of going with too. I always ask what colour the bridesmaid dresses, flowers  and your jewellery are so you know what tones would suit.
Any make up looks/ products you should avoid for your wedding day?
Do whatever makes you feel amazing but unless you are very dark I would probably avoid a lot of black as it can look very harsh in photographs and during the day too. I have done super dark smokey eyes on brides who were dark and they were divine but their skin tone and hair colour could take it. I would stay away from anything too structured or very colourful too unless that is a part of your culture.
Do you have any tips for brides on the day to avoid any make up mishaps?
Do not let ANYONE (bar your other half) touch your face. Everyone will want to hug you. That's normal. But if you allow that to happen then you have all those people rubbing their faces off your face – which will rub off your makeup. You could get lipstick marks on your face, or on your dress.
To avoid this all you need to do is to place your hands on their shoulders as they approach you and then air kiss them. Simples.
Is there anything else you would like to add?
Another little tip is to pop your lipstick and lipliner in your flowers if you can or else you can give it to your photographer so you can have a touch up before the photos. If you have oily skin I recommend having a powder compact for touch ups around your nose and chin as the evening goes on. Never wipe. Always pat.
Where can our lovely brides find you?
Website: https://jeanettecronin.com
Email: [email protected]