As a wedding stylist,  a newlywed bride and someone who has attended numerous weddings – decor to me is one of the most important elements to a wedding. Wedding decor makes an impression last! 
It is the first beautiful glance that catches your guests eyes as they enter the doors to your ceremony. The candlelight, the beautiful flower arrangements, the personal touches and signage along with the romantic ceremony music playing in the background. By creating this goosebump ambiance for your guests, you're wedding will be a talking point for months! You are also showing your guests how much this wedding day means to you as a couple by showcasing so much love through the decor. The best part of it all – your professional wedding photographs and video will look absolutely incredible! 
In some venues – in particular churches where they hold a very natural beauty – to fit the occasion of a wedding we would recommend decorating and styling. You could go with a beautiful candlelight theme and have lanterns running each side of the aisle. Or you could go for flower arrangements, arches and pew ends. There is no limit to what you can achieve. It is completely down to your own personal style and theme of your wedding. 
Our Wedding Stylist Tip:
When booking decor for your church, please make sure to take some photographs so we can ensure the decor will fit perfectly. Every church differs, some aisles are too narrow and lanterns may not fit. Some aisles are too long and could require extra decor to fill the space. Also some church doorways have roofs making it hard for the floral arch to be placed. If you decide to go with arches, I would recommend you take measurements of the church doorway.
So what kind of styles do we offer?

 
Let's start with the wedding season. Each season brings a whole array of different styles. Spring themes can see earthy and neutral tones whilst Summer can be colourful and fresh. Autumnal brings the most cosiest warm tones that can be incorporated in flowers and textiles and Winter can be romantic, rich and festive. 
Regardless of all, your wedding is your own personal style. Don't be afraid of minimalism – less is more! And on the other hand, let your love sparkle and be bold!
Once you have your season & date chosen, you can now think of your theme. I suggest having a look at Pinterest and creating a board of what styles and visions interest you. You an check out our Styling Page & Pinterest page here where you can also see all of our styles and props :
Let's talk themes:
Themes can be either uniquley personal to the couple or else can completely depend on the style of venue, the climate and time of year, the colour of your bridesmaids dress, etc. 
When I speak about personal and unique, it is quite lovely to speak your romance story though your decor. Let your imagination run wild! Is there a colour, a type of flower, an element that is sentimental to your love story that you can implement and build a theme around? Think about it! 
What is currently the hottest theme trend for 2021 – Rich Copper!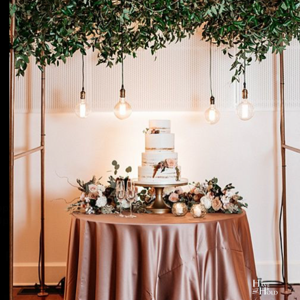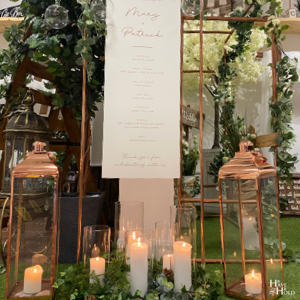 This trend is absolutely gorgeous! Is it as classic as silver or gold, no. But it is a hot trend that brides are jumping on and we can understand why. Copper pipes as arches & table plan stands, along with copper lanterns, frames, mirror and centrepieces. The best way to style this trend is with plenty of greenery, white/cream candles and minimalistic modern stationary. Pro tip: pair this trend with light colours such as creams, blush and sage. As for the rest of the colour palette for your wedding, stick to really neutral tones.
Here is a few more ideas I have rounded up for you:
Romantic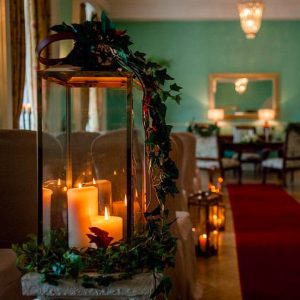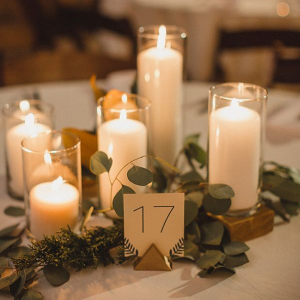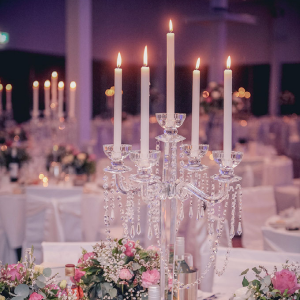 Delicate lighting, candles, soft pastels, chandeliers, candelabras, calligraphy signage, greenery and neutral florals. This theme can suit any venue type.
Vintage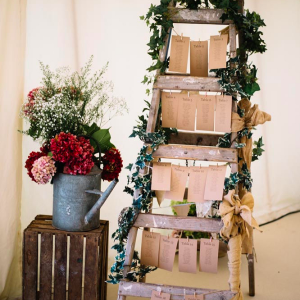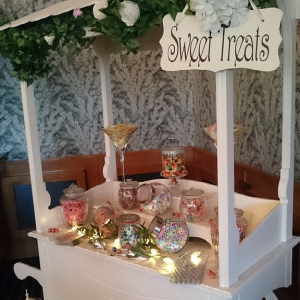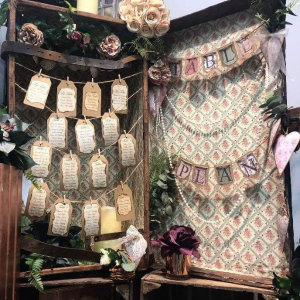 Antique lanterns, birdcages, soft pinks and rustic red florals, vintage bikes, vintage cases used for table plans, umbrellas, antique centrepieces with peals. We have a huge variety of antique decor in our To Have and To Hold Showroom and online! This theme works beautifully in older venues such as houses & manors – but all you really need is a four walls and the right decor to bring your vintage wedding theme to life. 
Modern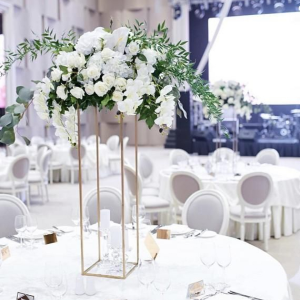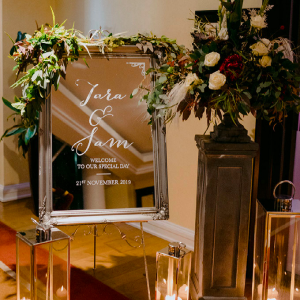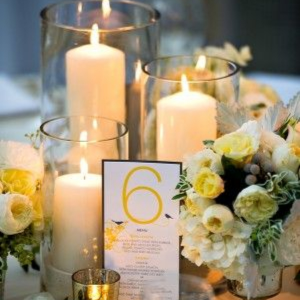 A modern theme can be as contemporary and as trendy as you wish. If you are a trend setter, then this could be the theme for you. Monochrome colour palette, fresh greenery, candlellight in glass vases and lanterns along with an overall minimalist style. Again, this theme works beautifully in all venue types. 
Rustic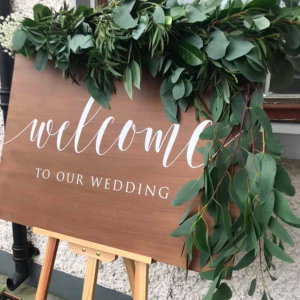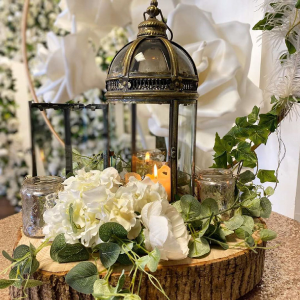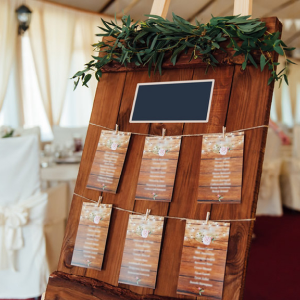 A warm and cosy trend than can suit Spring, Summer and Autumn exceptionally well. Wooden earthy accents such as centrepieces, table plans and easels decorated with baby breath, yarn and string lights. The perfect theme for the DIY bride. Mason jars and empty wine bottles can make for excellent candle holders. This is one of our most popular themes that we have styled in hotels, marquess, houses etc. Works every time!
Boho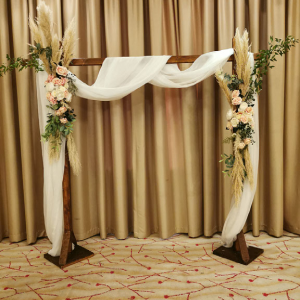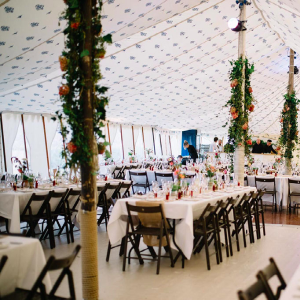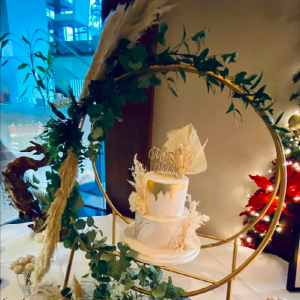 Cool, carefree and beautiful! Macrame is a big 2020 trend that is staying for 2021. Overflowing florals, wooden arches, an abundance of drapery, whimsical florals and pampas grass can make for one dreamy Indie wedding! This theme goes hand in hand with marquee weddings – particular in the warmer seasons.
Traditional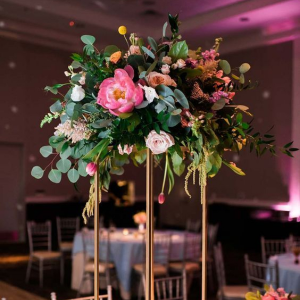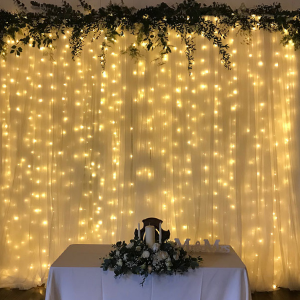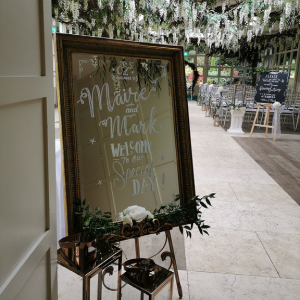 Also can be known as the formal or even a black tie wedding. This theme is made for a winter wedding! The decorative focal point is the extravagant centrepieces such as candelabras, tall floral centrepieces, candle light everywhere, fairly light backdrops along with the jazzy music and champagne reception. A very popular one that again is perfect for all venue types and for all seasons! 
Lets not forget Christmas, Black Tie, Disney & Marquee themes too! There really is so much to choose from, but I do recommend before you set out picking your theme make sure you have your prioritised suppliers chosen. Take into consideration your band and what they're best style of music is. Your photographers and videographers style etc, etc.  Also make sure you try on a few bridal dresses and ensure that you are happy with a certain style. I have often met brides who chose vintage as their theme but ended up falling in love with a modern/boho style wedding dress instead of a vintage one. And you know what, if you are happy to mix and match themes then go for it. Make it all about you as a couple! Decor is supposed to be personalised and unique!
Have a look at our styling section and see everything we can offer!

If you find certain elements you chose don't fit, don't worry! Our stylists can work their magic by marrying them all together with their amazing decor skills for it to all come together!
https://www.tohaveandtohold.ie/venue-styling-decor-rental/
Once you have chosen your decor theme, please feel free to contact us and let us guide you. We have a huge selection of decor that is available to hire or be styled by our wedding team on your day. We have props, table plans, floral arches, floral trees, flower walls, lanterns of all sizes and colours – you name it, we have it!
We look forward to hearing from you –  [email protected]