Bride: Mary T Allen
Groom: Genie Griffin
Date of Wedding: Sept 23rd, 2016
Location: Fernhill House Hotel, Cork
Mary-T was first introduced to Genie at her 30th birthday party. After he made his way into her private birthday function for a pint with a mutual friend, they caught one another's eyes and well lets just say the rest was history! Mary- T of Powder & Plait specialises in the wedding industry through make up & beauty treatments. With over 15 years in the beauty industry, Mary has a huge amount of experience with brides & their bridal parties. A usual week for Mary T would be prepping the bride and bridesmaids the days before the wedding with their lash extensions, manicures, spray tans right up to the morning of the wedding where she applies the bridal make up. In her own words "I become apart of the family! I have made amazing friendships with my brides"
It was now time for her to put the make up brushes aside and be the beautiful bride – and that she certainly was!
Before we dive into the details of your amazing wedding – can you tell us firstly about the proposal?
As my birthday date was when we met, we marked that time of the year as our anniversary also. Three years after we first met (May 2015) we headed off on our usual get away that time of the year and did part of the Wild Atlantic Way. It ended up in as a bit of a luxury stay at the end as we stayed in The G Hotel Galway. When I woke up the morning of my birthday,  Genie was down on one knee! Such an amazing and special time! He had asked both my parents the week before also. With all the extra special anniversaries happening around my birthday he has no excuse to ever forget! Lol!
As a bridal make up artist – you must have so much experience dealing with bridal parties and seeing such an array of different style weddings. Did you know exactly what you wanted to do from the moment you got engaged?
So many people would say this to me. Yes I am in the wedding industry, but there is still so much to it. I needed a wedding planner to help hold my hand and guide me through it. I also didn't want to have any stress associated with the wedding and having Sandra took all of that stress away. I know a lot of hotels have wedding co-ordinators, however there is so so much more involved than just the hotel part.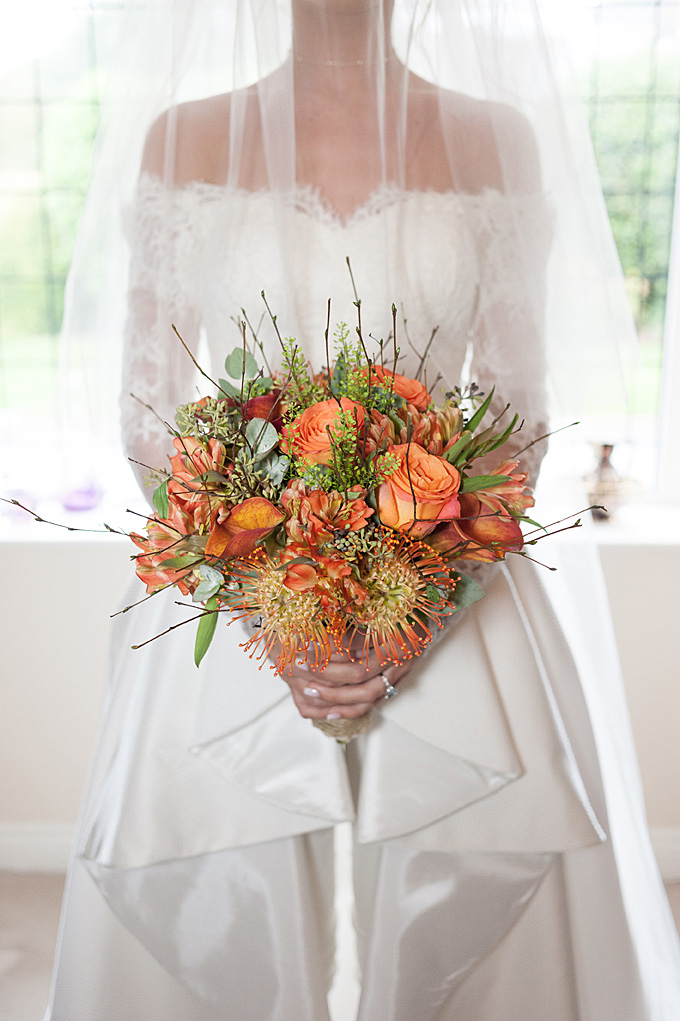 We were delighted to be apart of your Wedding – What made you decide to go for a wedding planner?
Well its like this. When you are building a house, you're not going to go to the engineer with your own drawings. You are going to need an architect to draw them up, to help and to advise you. This is one of the biggest and most important days of your life – why go in and start planning it blind sighted? I wanted a wedding planner so she can tell me "don't do this, that is costing you far too much money, this suits you much more let's do it this way instead etc,"
The morning of my wedding Sandra was up and down between my own house and Genies making sure everything was running smoothly, that we were sticking to our time schedules and she was even giving our gifts to one another. Just knowing she was there and taking care of everything and everyone allowed me to really enjoy every moment with my bridesmaids and family.
These people do this all of the time – this is what they are experts in! Why not pay someone for this kind of service and expertise. You only get married once (please god) so why not make sure you do everything to make your day perfect.
Did you enjoy the wedding planning process?
Yes! My now husband didn't take the back seat when it came to the wedding. He was right there with me and honestly we enjoyed the whole process of building 'our style' wedding. I have seen brides getting so stressed and it taking over their lives. I knew whatever happened I was not going down that road!
Sandra just kept the wheel turning in the background, just so I could really relax and enjoy the entire run up and the day of my wedding. When the day came It was just so great knowing Sandra was just there all the time. She was bringing the church balloons and flowers to the venue, she was getting everyone into the double decker bus to make sure we would all arrive on time to the hotel. We didn't have to allocate these jobs to anyone, it was all Sandra. Yes I could have asked people to do all of these jobs, but when you are in the moment everyone is in such a love and happy bubble – you don't want to be pulling people away from that.
Let's talk about your Wedding dress – WOW! Tell us all about it?
I work with a lot of brides in my business – Powder & Plait –  and when it came to my time to go dress shopping, every dress I tried on it felt like I had seen it before. I was like "this is the dress of my bride from two weeks ago". Besides that, my own style is quite individual and I really wanted to keep my own personality in what I chose to wear. After time I knew the only way forward was to get the dress made. So with a lot of research I put together a design which I knew was very much me and brought it to the amazing Ernest Perryman Dress Designer in Cork who was excited to make the dress with a twist!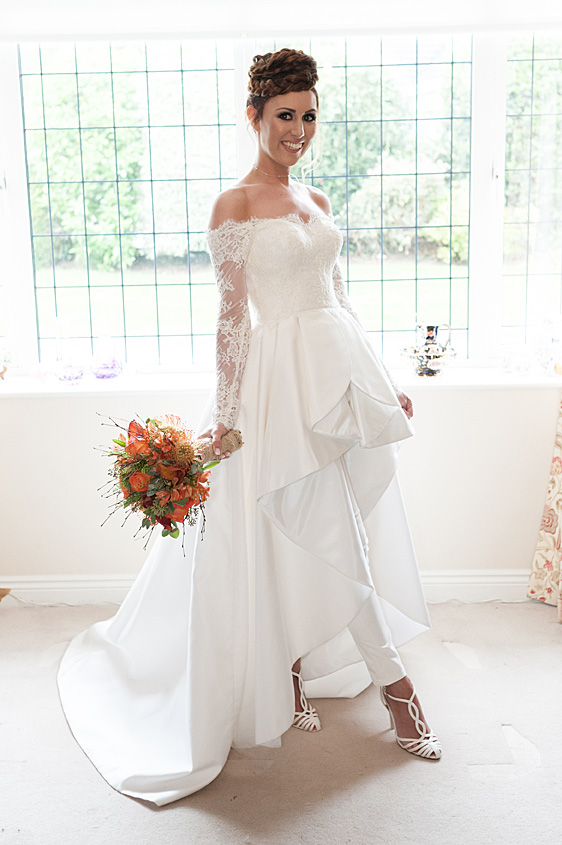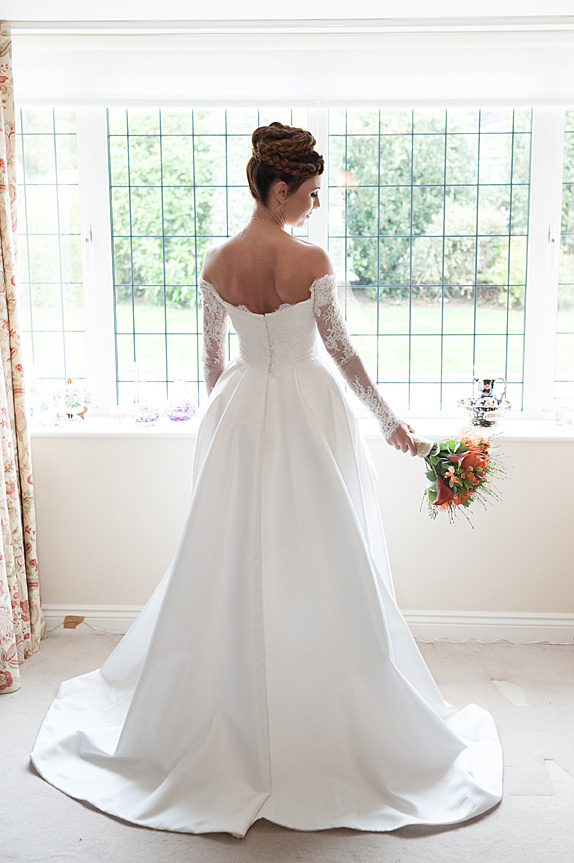 And your bridesmaids were also quite unique – where did your source their outfits?
Again with bridesmaids dresses I felt I  had seen them all before! I wanted to go with a bit of my own personality mixed with their  own comfort. I sourced their outfits in River Island.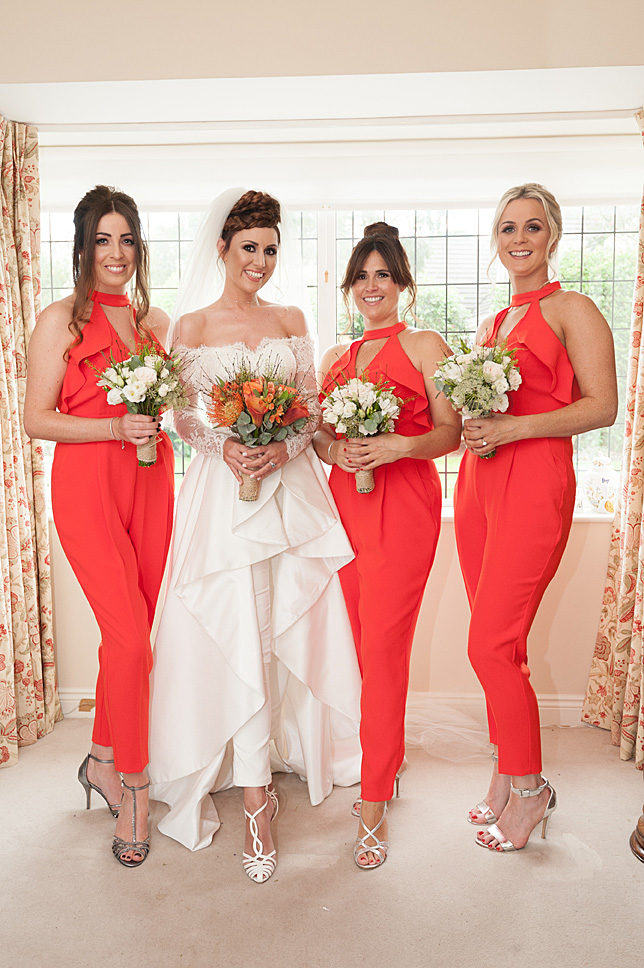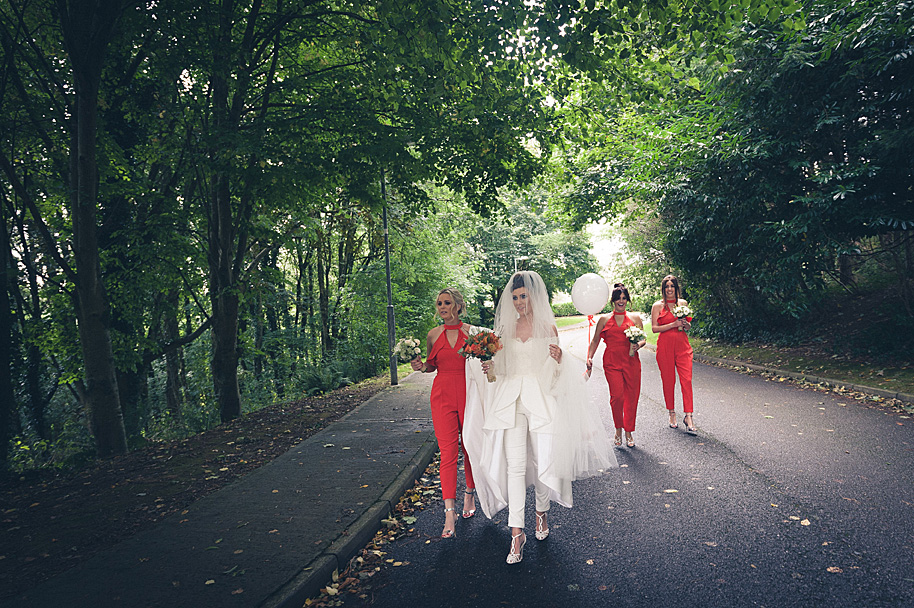 Your dress caught the eyes of the nation, so much so you starred on The Ray Darcy Show – Tell us more?
Three weeks after the wedding I got a call from The Ray D'Arcy Show to come on air with Randy Fenoli of 'Say Yes To The Dress'.
There was three brides who starred on the show including myself. Our wedding dresses were on show and he had to guess which dress belonged to who. Well, he got it so so wrong! I had been told that we would only have 3 minutes to get the dress on us back stage so before we left for Dublin that day Genie had practised getting me into the dress in record time! He succeeded!
I believe he's the only groom to be in a panic to get his brides dress ON – not off! Lol!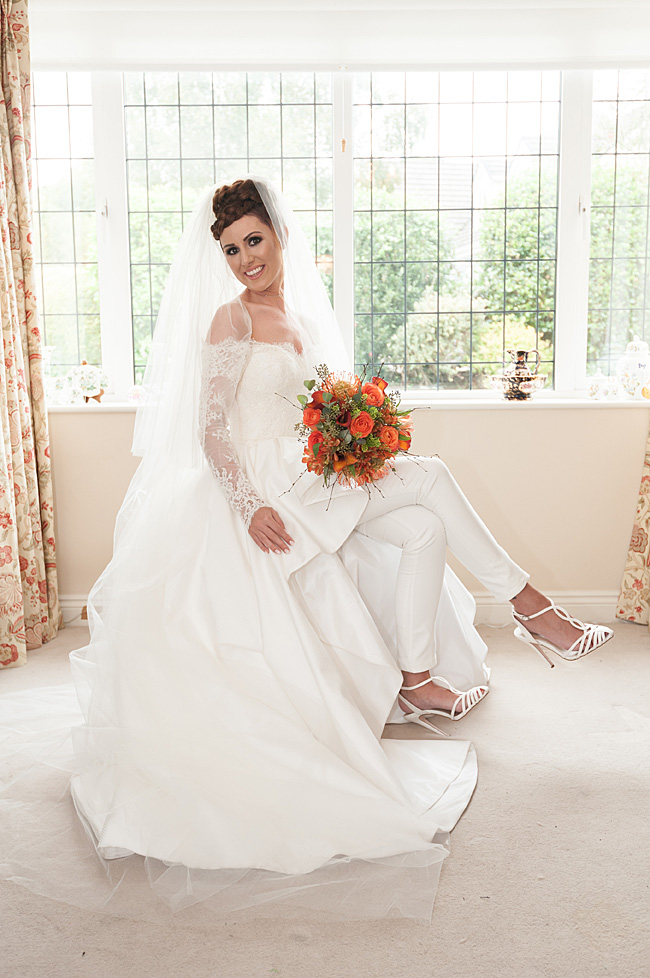 What were your highlights of the day?
Without sounding cheesy – but seeing each other at the alter was a massive highlight to us both. Genie didn't know what style dress I would be wearing, but I also had no idea what he was going to be wearing!
We greeted each other like "You're not wearing a tie or dickie bow?" & "You're wearing TROUSERS!!" It was a great moment!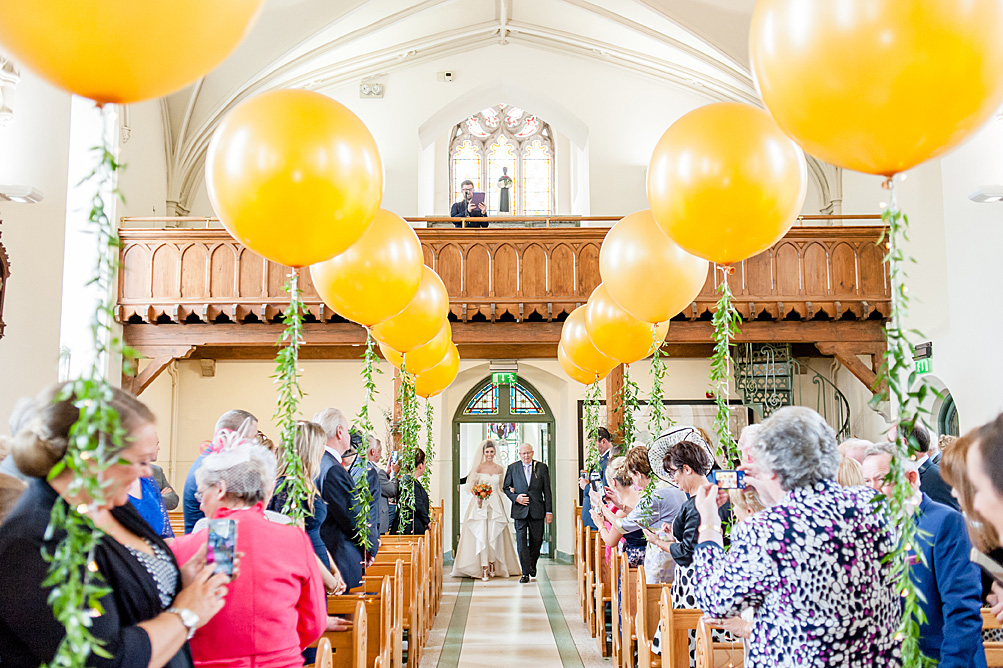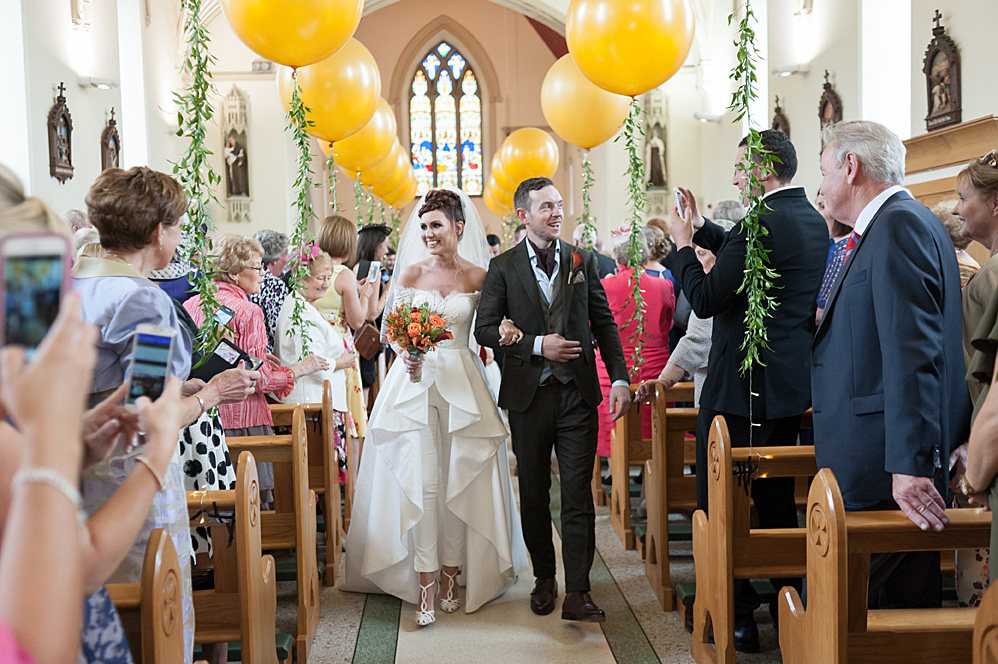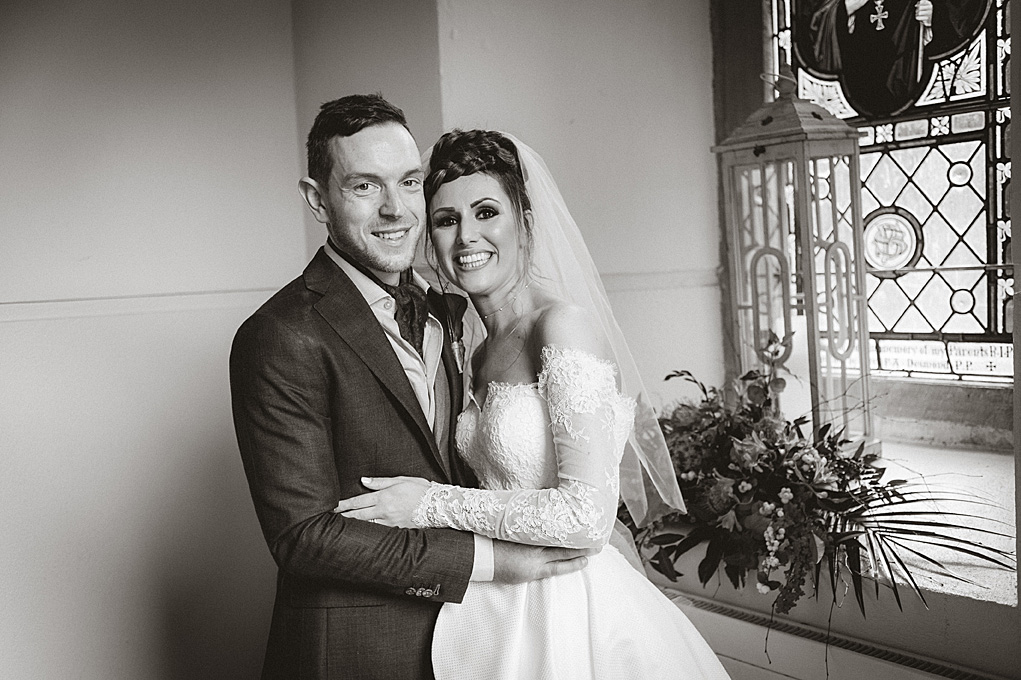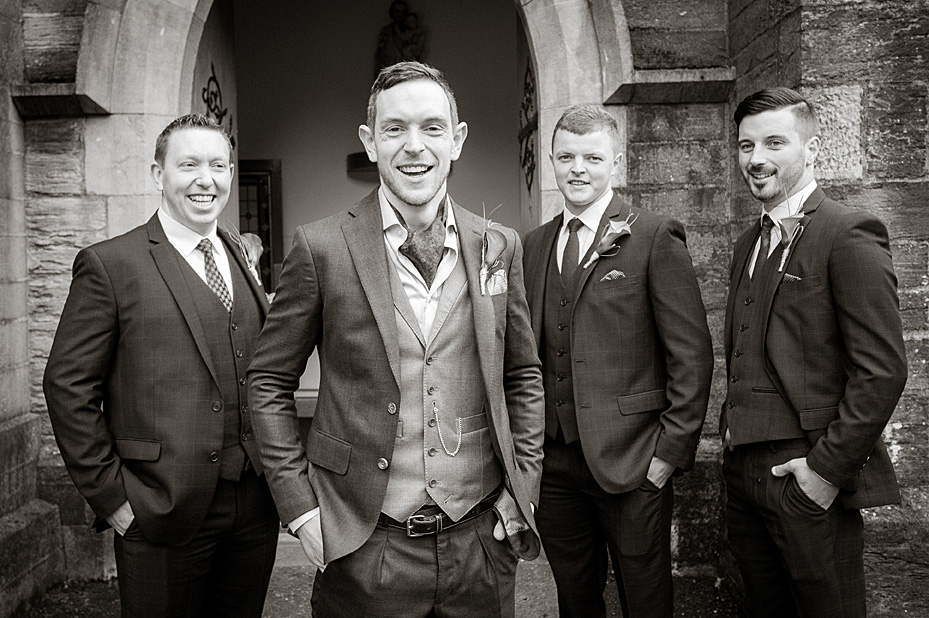 The Silent Disco was also a massive success for all ages! There was one point I was giving my all with a bit of AC/DC in my ears but when I looked around I noticed others were practically slow dancing  as they had the other station on with a bit of Backstreet Boys.. what a mix and what a laugh!
Last but not least – Where is your dress now? Do you think you'll ever wear it again?
Oh yes! I have worn the trousers a few times already. They are a separate high waisted pencil trouser. They are the most comfiest trousers I have ever own – well that's because I got them made for me lol! As for the dress I have it now cleaned and boxed away. The last time I wore my dress was for the announcement of my pregnancy with my beautiful twins who are now born – Myles & Annelise. I thought it would be a little bit of fun!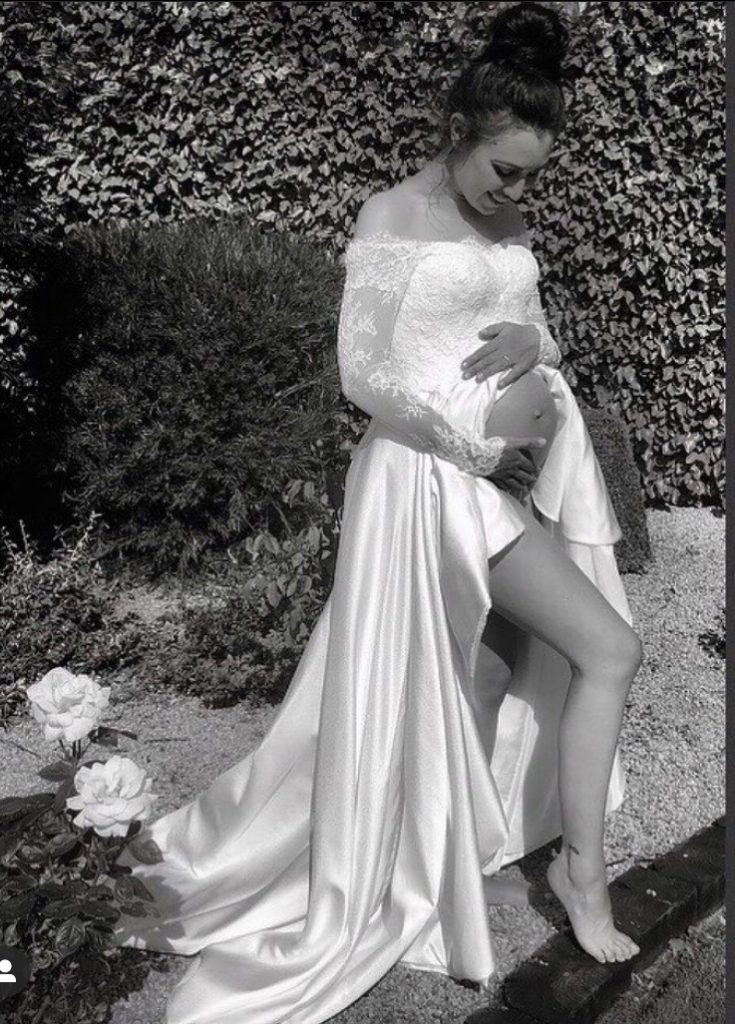 What advice would you give to the soon to be brides & grooms?
Honestly, I would link it back for brides and grooms to getting a wedding planner. I would advise them to set their budget, and allocate a segment of that to a wedding planner. Let the planner go from there and take all that unwanted stress, anxiety, what if's and unanswered questions out if it. If not for the planning, then definitely hire her for on the day. Give her all the numbers of suppliers, the hotel, VIPs – so then your phones are not hopping the morning of the wedding. I know that yes you can plan your wedding day without a planner, but you will not be able to plan it to the extent of a wedding planner. Nor enjoy the days leading up or the day off without the help and reassurance of a wedding planner.
When asked why did I get a wedding planner when I could have just planned it myself – is the exact same thing as asking a bride 'why get a make up artist to do your make up when you can just do it yourself?!' It is because you want it to be absolutely perfect and you need that professional touch!! The same goes for a wedding planner, yes you can do it, but just let the professionals do their thing –  the professional stands out a mile! Thankfully I can say I have no regrets for my wedding day because of that!
If you are looking for a bridal make up artist & beautician for your special day, you can contact Mary T of Powder & Plait through the following details:
Email: [email protected]
Instagram: https://www.instagram.com/powderandplait/?hl=en
Wedding Suppliers:
Hotel Reception: Fernhill House & Gardens, Clonakilty
Number of guests:268
Wedding Planner: Sandra Looney – To Have & To Hold
Band: Happy Dayz
DJ: SilentDisco
Photographer: Dermot Sullivan
Hair: Laura from Hair Play
Make up: Jennifer Keating