Welcome back everyone to our Q&A blog series. It's a new week and with that I bring a new interview! I really hope you are enjoying the blogposts and that the information provided is helping assist you on your wedding planning journey!
This week I had the pleasure of speaking to Brian Roche of Baker Boy Cakes! I am sure a lot of you have heard about the Baker Boys through several recommendation's – and if you haven't well then keep on reading!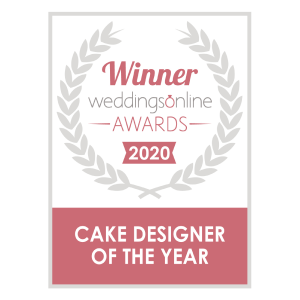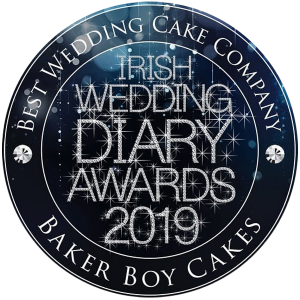 The Multi Award Winning bakery has been crowned 'Best Wedding Cake Company' year after year in Ireland and we can see exactly why. His work has proved to be the best in the business from wedding cakes, to christening cakes and every occasion cake in between. Once you see his images below, the incredible detail and finishing touches will reduce you to 'tiers'! 😉
Hi Brian, Thank you for chatting with me today! So, tell

us

about

the

Baker

Boys

?

I always had a passion for baking which came from both my mother and my nan who had been very good at baking. I even attended the local convent to study home economics & from there I moved to Birmingham to study a Diploma in Bakery. After that I always worked in the bakery trade with my last job being a bakery supervisor for 15 years. I set up Bakerboycakes part-time to see if it would work out. After two years, I could see that the business was growing so I went full time and the rest is history. Since going full time, I've made well over 1000 wedding cakes over the last 8 years!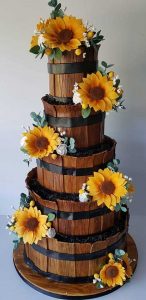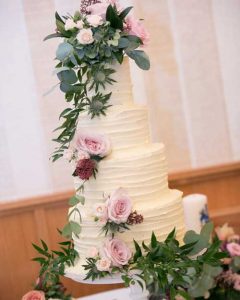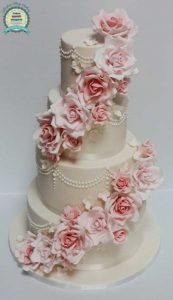 Where

are

you

based

and

how

far

do

you

cover

?

I'm based in East Cork in Ballymacoda but I often say near Garryvoe as everyone knows there! I used to cover all over the place and I would even have weddings in Dublin. But lately I have decided to cover just Cork City and Cork County – or within a few hours journey from my home.
After

a

couple

enquires

with

you

guys

,

what

happens

then

with

the

tasting

?

This is where the fun bit happens and it is also the one time I always see the groom too! I am passionate about making your cake, therefore it should not only look amazing, but taste amazing too. That is why I only use the finest ingredients from Irish unsalted butter to premium Belgian chocolate and every thing in between. I ensure all cakes are freshly baked to your specific instructions. At the consultations, there is a ton of cake for you to try and after tasting the cake, we chat about the design and bringing different elements of your wedding and personality onto the cake.
When

would

you

advise

couples

to

book

their

baker

?

My advice is once you know your date, book every one of your suppliers that you want and the same goes for your baker. I have weddings booked years in advance. I currently have them booked into 2023. Especially if it is a bank holiday weekend or Christmas time – they always fill up fast.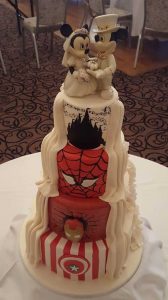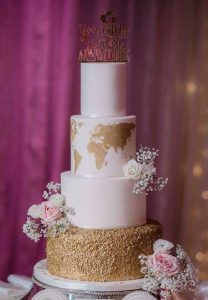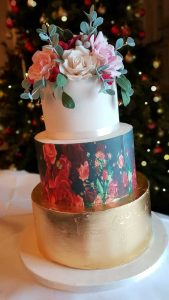 What

is

your

most

requested

design

/

flavour

?

Any

bespoke

?

Each wedding cake I make is bespoke so it will suit your styling and theme. Yes you'd have the old favourites like buttercream styled but you can add your own twist to them too. If its an iced cake, they are always designed taking all elements of your wedding from your dress, flowers, colouring, even invites into consideration. As for flavours, anything goes, but the most popular would be chocolate biscuit filled with any of your favourite chocolates. My white chocolate biscuit cake is filled with rolo, munchie and malteasers and it is to die for so I've been told time and time again!
What

was

the

most

memorial

cake

you

have

made

to

date

?

To me each cake is unique and special in its own way but the biggest I've made (outside my own which was 7 tiers) was Anna Geary and Kevin's wedding cake. It was a tall 5 tier wedding cake with an elegant side and the back of it had a fun side depicting their hobbies and interests. It was definitely a show stopper!