Wedding dress shopping is a moment we all dream about from a young age. But as the moment comes closer, it can become quite daunting. The pressure of finding your perfect dress that not only matches your personality and style but one that suits your wedding style too. Whether you are feeling excited or a bit nervous – do not worry! Grace from Diamond Bridal is here to share her expert tips and advice to ensure you are all set when embarking on your wedding dress quest!
Diamond Bridal opened its' doors in November 2011 on Maylor Street, in the heart of Cork City. Since opening, the bridal boutique has grown to be a Multi Award Winning Bridal Boutique stocking world leading designers and delivering an unforgettable experience for Brides-To-Be. Diamond's Bridal appointment policy allows them to provide each Bride and her Bridal Party their undivided attention in their luxurious, private Bridal or Bridesmaids Suites.
They are currently compiling a list and will contact anyone who wishes to make an appointment once they know when they can reopen. If you wish to be added to the list, please email [email protected] with your Name, Number and Wedding Date.
Okay, so lets get this interview started!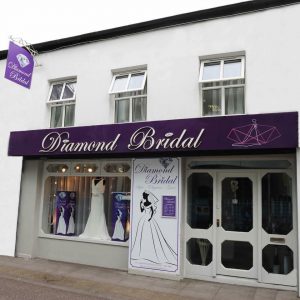 What designer lines do you carry in Diamond Bridal?
We stock well known international and Irish Designers including; Enzoani, Blue by Enzoani, Beautiful by Enzoani, Elysée, Rosa Clará, San Patrick, Randy Fenoli, Nicole Spose, Venus and Kate Parle. Our sample Sizes in store range from 6 – 26. Prices Range from €1000 to €3800 and Off The Peg dresses start at €400.
As well as our extensive Bridal Collections, we have one of the largest collections of Bridesmaids Dresses in the country. We are Stockists of New York Design House, Dessy Bridesmaids which include Jenny Packham and Alfred Sung. We are also exclusive stockists in Ireland of Nieve Couture Bridesmaids and Flower Girl Dresses. We have over 300 styles in store, available in over 100 colour options and in all sizes.
At Diamond Bridal, we stock accessories from Pronovias, Bianco Evento, Nieve Couture, Richard Designs, Warren York , as well as hand made pieces from local designers Cathy Troth and Sarah Bowles.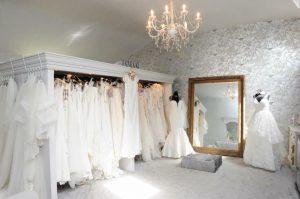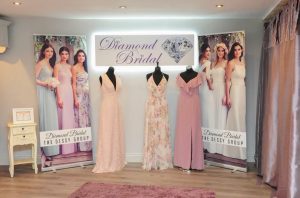 Which styles of wedding dresses do you think will be the most popular for 2021?
With the shift of weddings being more intimate, we are seeing some brides looking for more simplistic styles like the classic sheath in crepe, chiffon and satin fabrics.
That said, it is still a wedding dress so most brides will wear the dress they have always dreamed of, and suits their body shape and personality, whether it is A-Line, Fishtail or full on Ballgown.
What are your favourite wedding trends at the moment?
Sleeves are a big trend at the moment and I just love the sophistication and elegance of the look. For the bride looking to wear a sleeve without being too covered up, an open back or sheer illusion is a lovely balance.
Another trend I absolutely love is the add ons you can wear with your dress to create a different look for your ceremony and your reception.  Add ons can be OverSkirts, Boleros or Capes. It's such a clever and economical way or having two different looks in one dress.
Many of our dresses are available with soft nude/carmel undertones.  I just love how adding that small bit of colour, the detail in the dress stands out so much more and each element of the dress can be picked up in photographs.  Of course, for the bride looking for a more traditional look, they are all available in Ivory also.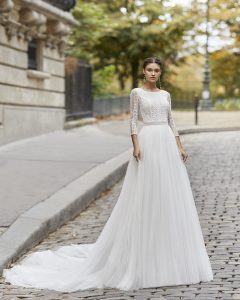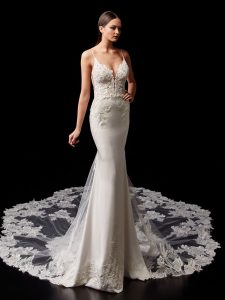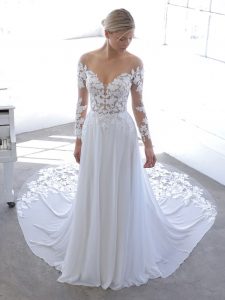 What are your best tips for any future brides who are just starting to look for their perfect wedding dress?
We advise shopping for your wedding dress 12 months prior to your wedding date, when possible.  I know during current times, this is not always possible and there are plenty of options, such as Rush Orders and Purchasing Off The Peg.
Prior to shopping, it is a good idea research the Bridal Boutiques on their Social Media and Websites and go to those that have the styles you love and within your budget.  Bridal Consultants are always happy to answer any queries you have, no matter how silly you think it may be, so don't be afraid to send them a PM or an email.
What are some typical mistakes brides make when shopping for a wedding dress?
Listening to the advice of others and not listening to themselves is a Huge mistake.  When the Bride finds the dress she feels most amazing and confident in, then no doubt that is the one. When shopping for your dress, my advice is to only bring those who know you the most and will be honest and supportive of your decision.  Remember, regardless on what anyone else says, you will be wearing the dress on the day and looking back at photographs of for the rest of your life.
What are the do's & don't when it comes to dress shopping? I know wearing fake tan to a fitting is a huge NO! What else?
Actually, unlike other Boutiques, we don't have a strict No Tan Policy, while we do keep our Samples in Good condition and ask that Brides don't wear instant tan or heavy make-up, we don't mind if they wear a light tan/make up, that won't come off on our dresses.  We think it's important for Brides to feel good about themselves when shopping and visualise the overall look when trying on.
We also recommend that they style their hair similar to the way they wish to wear it on the day.
It is advisable to wear comfortable clothes that are easy to get in and out of as well as nude underwear and a strapless bra.
While most Bridal Boutiques will provide shoes for trying on purposes, if you wish to wear a particular shoe or heel height on your wedding day, then bring them along to your appointment.
What is your favourite advice for brides?
The most important advice I can give to a bride is to Keep and Open Mind.  Don't be surprised if you fall in love with a dress you had not envisaged. When you find "the one", just like when you found your partner, you will know.
You can check out Diamond Bridal's Instagram and Facebook Pages as well as their website below:
www.instagram.com/diamond_bridal1
www.facebook.com/diamondbridal1